Frequently Asked Questions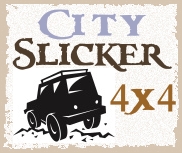 City Slicker 4x4 outings are unique adventures held all across and around Southern California. In this section, you will find helpful information on these trips, what you'll need for them, and what you'll do once you get there.
What is a City Slicker 4x4 trip?
It's a family-oriented four-wheel drive outing that's probably unlike anything you've ever experienced. There are trips for all levels of expertise-from raw beginners to seasoned veterans, so it's fun for everyone. Some trips are designed for stock vehicles, others require modified vehicles. You and your family will venture to places you would never see from the highway. You'll follow unpaved trails and learn how to properly use your SUV in challenging off-highway situations. And, perhaps best of all, you'll make lots of new friends who will help you along the way.
Whom can I bring?
Whomever you want - as long as they each have a required seat belt and understand the basic risks associated with this activity. Bringing pets is discouraged.
How do I sign up?
Complete our online registration and join us on the next run. It's that easy !
Or if you want to get to know us first, join us on the next monthly dinner meetup, every first Tuesday of the month.

Where do we sleep on a trip?
Most trips are usually limited to one day outings, , so you will get to go home to sleep.
But when they are longer, we sometimes camp or sleep at a remote hotel/motel.
What will it cost?
Nothing !
Will I be the only trip rookie?
No. There usually is a mix of both first-timers and veterans on any given trip.
Can I bring any SUV?
Of course! But, we require that your four-wheel drive vehicle be in good condition, with good tires and brakes and seat belts. We do, however, require prior approval for larger SUV models such as older Grand Wagoneers, J-Series Pickups, Ford Excursions or extended-cab pick up trucks. City Slicker 4x4 reserves the right to refuse participation to any applicant whose vehicle exceeds size restrictions or condition standards. This is for your safety.
Could my vehicle be damaged on a trip?
Every effort is made on the trip to make the trails as safe as possible. Participants are advised to closely follow the instructions given by trail guides and spotters. However, there is the possibility of damage to your vehicle when traveling over rough terrain. Any damage is the owner's responsibility. Skid plates, rocker guards, rock sliders are all a good idea to protect your vehicle.
Is there more than one trail at a given destination?
This varies by destination and time constraints, but may feature multiple trails.
Does my vehicle need special equipment to take part in a trip?
Older model vehicles (i.e., CJs, Scramblers, and Willys) must have mandatory roll bars.
STRONG RECOMMENDATIONS:
A full-size spare tire. In case of puncture, a space-saver spare (donut) won't do.
Skid plates covering the oil pan, gas tank, and transfer case.
Heavy-duty, 20'-long nylon tow straps (20,000 pound minimum) with looped end (no hooks). Tow straps with metal hooks will not be permitted.
Body lifts or suspension lifts
Running boards and snowplow frames are also not recommended.
Worn out tires or street tires are discouraged. Use an all terrain at minimum.
Is it okay to add passengers at the last minute?
Sure, passengers may be added at any time, understanding that they are your responsibility.
What if the weather forecast calls for snow or heavy rain? Should I still come?
Absolutely! That's when we all get excited about going on the trail.
What should I bring with me besides my Jeep vehicle?
Here's what we recommend you pack for your trip adventure:
A CB radio. Although not required, it's highly recommended as a great way to communicate with newfound friends on the trail.
An ice chest filled with your favorite NON-ALCOHOLIC beverage.
NO ALCOHOLIC BEVERAGES ARE ALLOWED ON ANY TRAIL RIDE for consumption by City Slicker 4x4 participants, and those involved will be banned from future trips.
Snacks
A tent, if camping outdoors.
Warm clothes. It may be warm when you arrive, but temperatures can plummet overnight.
Insect repellent.
A camera.
Flashlights and fresh batteries.
Whom do I call if I have any other questions?
Contact any one of us here. We are based in and around Burbank, CA.
No-Shows:
It is inconsiderate to the Organizers or anyone on the waiting list to RSVP and not show up. Therefore we will keep track of no-shows. If you must change your RSVP, please do so with a minimum of 24hrs before the start of the event. If you have multiple no-shows on your record you may not be admitted to future events when there are people on the waiting list.
Final Note:
Due to unforeseen circumstances, trips and events are subject to change and possible cancellation.